StarPagga Lite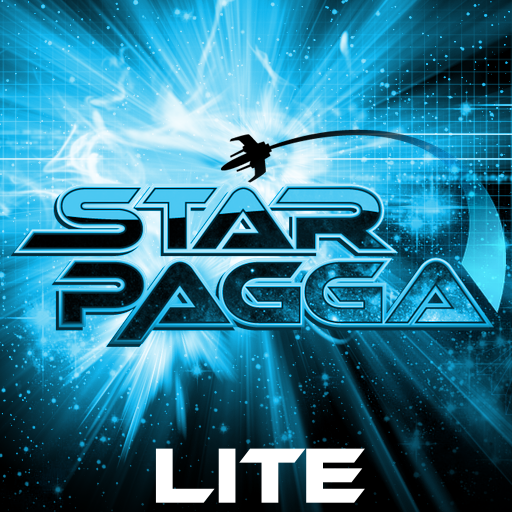 Click here to request a review of this app
Description
StarPagga is arguably the best multiplayer 3D space-shooter on the App Store! You can configure your spacecraft, and engage in a series of dangerous fast-paced dogfights.
Features:
• Action packed 3D space combat
• Single player campaign
• 8 player multiplayer (Bluetooth, LAN and Internet)
• Multiplayer voice chat (Bluetooth, LAN and Internet)
• Push notification game invites and game host messages
• 14 challenging missions
• 2 tutorials
• 4 challenge missions with online leaderboards
• Battle in a variety of different space environments from Saturn's rings, dense asteroid fields, orbital construction zones, deep fog plasma clouds and planet surfaces
• Use the accelerometer or touch interface to control your spacecraft
• Use the mini-map radar to track your position, and that of your wingmen and enemies
• You'll need to master evasive combat manoeuvres
• 8 configurable spacecraft available - you can name them, and then equip them with your choice of:
- Pulse Lazer
- Beam Lazer
- Fusion Torpedoes
- Anti-Matter Missiles
- Shield Generator
- Cloaking Device
- Computer
- Thrusters
- Afterburner
- Defence Matrix
- Shield Regenerator
- Shield Battery
• Frequent updates
• Developed exclusively for the iPhone, iPod touch and now the iPad too!
One of the most action packed space dogfighting games on the iPhone, iPod and iPad to date! Join the community - we'll see you in the skies.
"While we were slow to get the word out on this impressive looking title, the action is anything but." - Blake Patterson, Touch Arcade
"A solid 3D shooter that offers a good dose of variety and gameplay" - Big Albie
"I have tried all the space sims in the app store. This is the one I was looking for! The action is good and I love that I can customise my weapon loadout"
"StarPagga is one of the best-looking, tightest tuned aerial shooters on the device" - Tracy Erickson, Pocket Gamer
What's New in Version 2.01
Improved Space Station model