RuDavid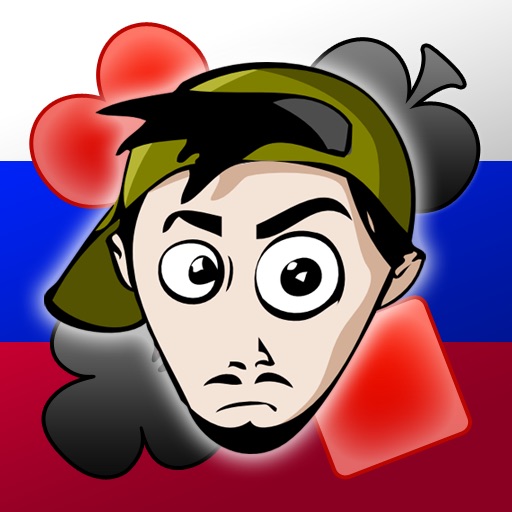 Click here to request a review of this app
Description
RuDavid - It's a russian trick-application.
(If you looking for english version of this app, please search for "iDavid: Card Magic" in AppStore"
RuDavid — a great way to scam your friends. It is filled with humor, magic, flying heads and strange music.
The Effect

1. Ask your friend (hereinafter – the victim) to name aloud any card from the 36 card deck.
2. Further state that you have a pocket street magician iDavid and he can guess the card.
3. Take the iPhone and place it in such a way as to be visible to both of you.
4. Run the app and start the magic performance.
5. Read aloud the questions posed by iDavid to the victim.
6. When the victim has answered the fourth question, iDavid will show the card.
7. ???
8. PROFIT

Your friend will probably ask you to explain how this trick works. So be it! Tell him a secret: "Actually there is no magic here, just WiFi shortwaves in the iPhone absorb brain fluctuations that occurring during mental activity, which allows it to define the required card." :)

Full instructions with images going with this app.

--
Приложение айДэвид: Карточная магия - хороший способ подшутить над вашими друзьями. В нем полно юмора, магии, безумной музыки и летающих голов.

1. Попросите вашего приятеля (далее - жертва) назвать вслух любую карту из 36 карточной колоды.
2. Далее заявите, что у вас с собой в кармане уличный маг Дэвид и он угадает названую карту.
3. Достаньте iPhone и расположите экран телефона так, чтобы он был виден и вам и жертве.
4. Запустите магическое приложение и начните шоу.
5. Читайте вопросы заданные Дэвидом жертве.
6. После ответа на четвертый вопрос Дэвид покажет названную карту.
7. ???
8. Профит!

Наверняка ваш приятель попросит объяснить, как работает этот трюк. Так уж и быть, выдайте ему секрет: "На самом деле никакой магии здесь нет, просто короткие волны wifi в iPhone улавливают колебания мозга, которые возникают при умственной активности, что и позволяет определить необходимую карту."

В приложении есть инструкция с картинками.
What's New in Version 1.1
UI improvements
Instruction changed
Big fixes