Bar Star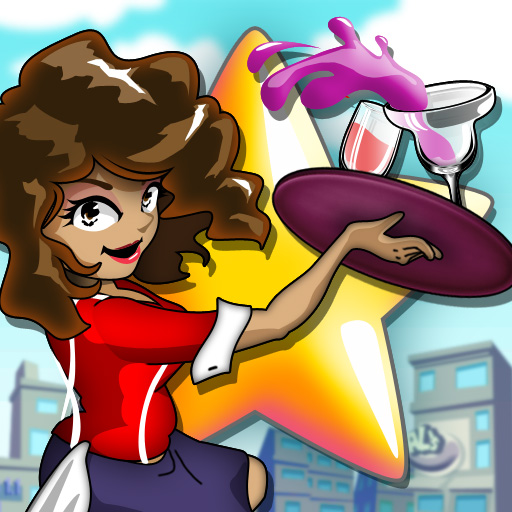 Click here to request a review of this app
Description
**Celebrating the Launch of Destructopus!**

Be the master of your own bar! Can you keep up with the happy hour crowd? Do you have an eye for style? Are you an entertainment guru? Find out as you mix drinks, serve customers, and upgrade your own bar in this dazzling time management game. Be a star while you serve celebrity guests and transform your bar into the area's hottest night spot!

become a fan on facebook:
www.facebook.com/barstargame

☆☆☆☆☆☆☆☆☆☆
Top 25 Strategy Game in US!

#15 Strategy Game in Canada and Top 25 in the world

#1 Strategy Game in HK

Top Strategy game in France, UK, Italy, France, Russia, Japan & Australia

Top 50 Action game in Canada
Top 100 Action game in US, Japan, Russia, Asia

Top Paid Game in Canada, Asia
Top Paid App in Asia

☆☆☆☆☆☆☆☆☆☆
Quotes:

"First game I've come across that goes beyond the mind numbing basics! Integrates many elements and has multiple ways to keep the user engaged for the right reasons!"

"Bar Star manages to put their own stamp on the genre by mixing all sorts of different drinks, and I couldn't imagine a more delicious cocktail."

"Enjoying the game - It is refreshing to come across something of this genre that is actually different."

☆☆☆☆☆☆☆☆☆☆

In the vein of similar great time management games like Sally's Spa and Diner Dash, BarStar creates an immersive environment through a combination of colorful characters and patrons (including some pampered celebrities), fast-paced, challenging gameplay & 35-levels of mixing and pouring your way to profits and fun.

Key Features:
-BarStar is a blend of intense arcade action and frantic time management
-35 challenging levels of gameplay: over 9 hours from start to finish, but we know you'll want to become a better BarStar!
-Upgrades for you're bar including a dance floor, a disco ball, plants, new drinks and even bathrooms!
-Hire additional staff to run the bar DJ's and bouncers, janitor
-Serve customers different types of draft beer, wines and mixed cocktails (including gin and tonic, rum and cola, Singapore Slings and Bloody Mary to name a few)
-Earn points to purchase enhanced bartending and serving skills
-Stunning graphics
-12 customers & 4 guest stars

Description

Chase and Artie's super rich and successful, Uncle Bill has just given them a bar to run. Chase is enthusiastic about this fantastic opportunity, while her brother, Artie, is less than excited about his new job. Regardless, Artie decides to go along with the plan. Enter the role of the dynamic duo as they work together to keep customers happy by serving them as fast and accurately as they can. Customers will be able to choose from different types of beers and wines, as well as other popular drinks, such as Strawberry Daiquiris, Singapore Slings & Rum and Cokes.

Practice your time management & bartending skills by directing the siblings through 35 levels of mixing and serving drinks to 12 unique customers, and 4 guest star customers with BarStar today!

In the earlier levels, you will notice that customers will be few and the drinks that they order will be simple to make. Don't be fooled, though! As the game progresses, the number of ingredients and types of drinks will increase; it will be your job to avoid mixing the ingredients up!

The objective of each level is to gather enough points to reach the goal of that level. Points are achieved when you have done something correctly, such as serving a customer the correct drink & checking them out promptly. Once you have reached a certain quantity of points, you have passed the level & have earned a stamp.

It will be your duty to choose the correct ingredients and glass. Forget what goes into a Singapore Sling? Don't worry, simply select the drink icon to see the drink recipe!
What's New in Version 1.0.4
- fixed potential freezing in levels with conversation between characters
- minor performance increase in rendering of sprites
- added multitasking support
- fixed rare bug where dragging/scrolling would not work in the store