MIG Football Lite - Out Quiz Your Mates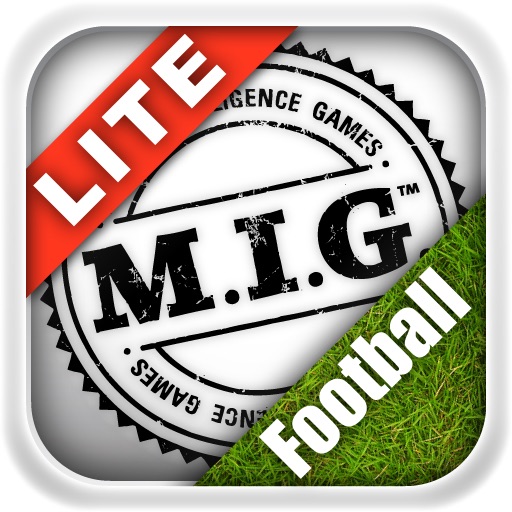 Publisher: Compete Now
Genre: Sports
Released: 26 Jun, 2010
Size: 4.8 MB
Price: FREE!
Click here to request a review of this app
Description
MIG (Mobile Intelligence Games)

The perfect football quiz.

It's a quirky, catchy and super-smart football quiz. Rather than other, older, stuffier quiz games, MIG Football is about the fun of getting things wrong as well as right. Every time you play, you'll pick up unusual trivia titbits from its eclectic smorgasbord of questions.

MIG Football
- The same experience as a classic game, except with none of the fiddly little pieces like dice and question cards
- Hundreds of brand spanking new fotball questions
- Manual control which lets you play the game your way
- Multi-player capability on one iPhone or iPod touch, so no need for multiple purchases
- A funky, fun 3D dice graphic that you can shake to roll
- Ability to browse the score sheet and question cards freely, if you're just hungry for the trivia

With the MIG Football app, you're totally in charge. Take turns reading the questions aloud. Shake to roll the dice, swipe your finger to flip or switch question cards and tick categories yourselves. If you want to, you can even browse the score sheets to see how old games ended. And you are always free to add new players even during a game. It's incredibly flexible, carefree and just that little bit exceptional.

It's the game to play on the move. Perfect for long journeys, boring queues, first dates and lunch hours. We like playing it wherever and whenever, whether that's under the bed sheets or in the sauna.

Download it now and join the craze.