Presidents vs. Aliens™ Lite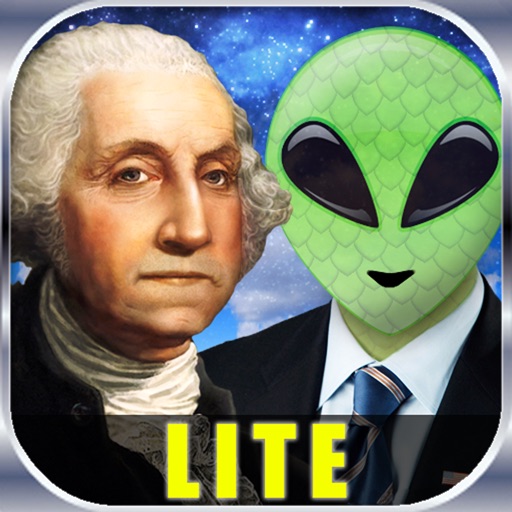 Click here to request a review of this app
Description
From the developer of Stack the States! Presidents vs. Aliens™ Lite makes learning about the president's fun!
As you learn presidential facts, quotes, nicknames and historical events, you can use your knowledge to help the presidents defeat the aliens. Fling the presidents at the aliens to knock them all down. Use the many special objects and "Executive Powers" to increase the fun!
You earn a random president for every successfully completed level. All of your presidents appear on your own personalized screen.
CONTROL YOUR OWN EXPERIENCE: You can select which types of questions are asked. Younger kids can start by just focusing on identifying the presidents. Older kids and adults can delve deeper into historical events and presidential facts.
HAVE FUN LEARNING ALL ABOUT THE PRESIDENTS OF THE UNITED STATES:
▸ Pictures
▸ Political Party
▸ Predecessors and Successors
▸ Nicknames
▸ Quotes
▸ General Facts
▸ Historical Events
FEATURES:
▸ Hundreds of unique questions
▸ Works on both iPhone and iPad - a universal app
▸ Create up to five player profiles
▸ Choose any of the presidents as your avatar
▸ High resolution pictures of famous presidential landmarks
▸ All games are powered by a realistic physics engine
▸ Fun sound effects and music
▸ iPhone 4 Retina Display support
Presidents vs. Aliens™ Lite is an educational app for all ages that's actually FUN to play. Try it now!
PRIVACY DISCLOSURE:
Presidents vs. Aliens™ Lite:
- Does not contain in-app purchases.
- Does not contain integration with social networks.
- Does not use 3rd party analytics / data collection tools.
- Does include links to apps by Dan Russell-Pinson in the iTunes App Store.
For more information on our privacy policy please visit:
http://dan-russell-pinson.com/privacy/
What's New in Version 2.0
- Reduced the size of the app when installed.