Velocirapture Review
---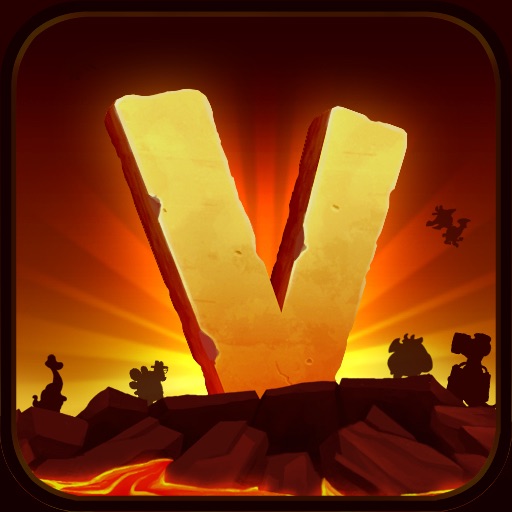 PROS
Clear, intuitive character designs; part satirical, part helpful for working out what they do.
Fun, irreverent theme; help save or damn the dinos.
Smooth story mode progression; unlocks special powers and new dinos along the way.
CONS
The more you unlock, the more overwhelming the game gets earlier on due to certain painfully frustrating dino combinations.
Locations add visual variation, but no real gameplay variation aside from higher difficulties.
VERDICT
Velociraptor messes with history, but whether you're flinging or smiting dinosaurs, you're bound to have fun with this colorful and frantic arcade title.
Full Review
App Store Info
Adult Swim are back once again, and unsurprisingly with developer PikPok in tow to create their latest madcap Arcade title Velocirapture a reality on the iOS. The reign of the dinosaurs is at an end and god is taking back as many of his faithful as possible before everything goes to pot - you'll need to fling and zap good and bad dinosaurs in turn, but beware, the evil hordes will gladly sacrifice themselves to hold back the dino-god's divine will.
Whether you play in the 'Endless' or 'Story' based modes, the goal remains the same - prevent your 'glory' from being drained by correctly flicking green dinos in to the giant hand in the sky, while drawing a line down to the red dinos in turn, smiting them where they stand. Failing in either of these will result in your combo multiplier being reset and a chunk of glory being lost, though both can be regained over time if you succeed.
There are four areas to unlock for both modes, with each being a Flinstones-esque dino-fied version of a real location - 'T.Rexas', 'Seattlodactyl', you get the idea. As you progress in either mode you'll unlock new dinosaur variants and their evil doppelgangers. Their powers range from blocking your flicks and line-drawing efforts, to catching and tackling good dinosaurs and even tossing them over a cliff to their death. At first it's easy enough to handle the onslaught, but you'll want to unlock the 'super smite' powers via the Story mode to really make headway on your high-score quest.
Once again, the developer/publisher duo have demonstrated a keen understanding of what makes a game engrossing, whether it be for a few seconds or for an extended session of repeated tries. From its gorgeous presentation; slightly irreverent humor; and smoothly scaling challenge, it's a hard game to put down.
Ultimately Velocirapture is a limited distraction, like so many other games on the App Store, but one that's bound to make you smile and keep you hooked until it's completed.