Rope Raider Review
---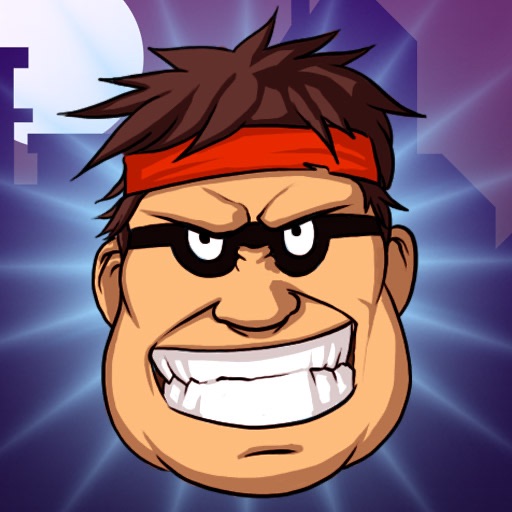 Publisher: 10tons Ltd
Genre: Arcade
Released: 4 Nov, 2009
Size: 34.5 MB
Price: $2.99
PROS
Easy to use control scheme.
Players are able to make their own iPod library playlist.
Online leaderboard access and score posting.
CONS
The gameplay is identical to Rope'N'Fly, nothing new or exciting added to the game format.
The gameplay can be a bit too easy at times, thanks to the random balloons and trampolines.
Only three main modes to play through.
VERDICT
While it might not be as good or challenging as Rope'N'Fly 1 or 2, Rope Raider offers some moderate thrills that fans of the genre might get a kick out of.
Full Review
App Store Info
For those of you who love Rope'N'Fly, then you're in luck because there's a new high flying, rope swinger in town. Rope Raider puts player in control of a rather heavy looking super hero as he swings around from building to building trying to get as far as possible without falling to the ground.
Players tap on a building to throw out a grappling hook and begin their Tarzan style swing and they tap again to release it. You'll need to keep this going in order to keep your swing alive and avoid crashing to the ground. You might get lucky every now and then however, as there a number of trampolines scattered around the levels to give you a second chance should you miss.
The visuals are very well done and the cartoony cityscape looks great. The sound is good but players might want to take advantage of the iPod playlist control, available from the options menu. There are three modes to play through, each with three degrees of difficulty to challenge you, and online leaderboard access for the more competitive players.
Rope Raider is one for fans of Rope'N'Fly, pure and simple. The gameplay itself is identical, with the exception of a few trampolines thrown in to make things easier, and cosmetically the simple rag-doll figure has been replaced by an obese crime fighter of sorts. While the gameplay is solid, these minor differences might not be enough to warrant paying double the price of either Rope'N'Fly title.