Monster Falls Review
---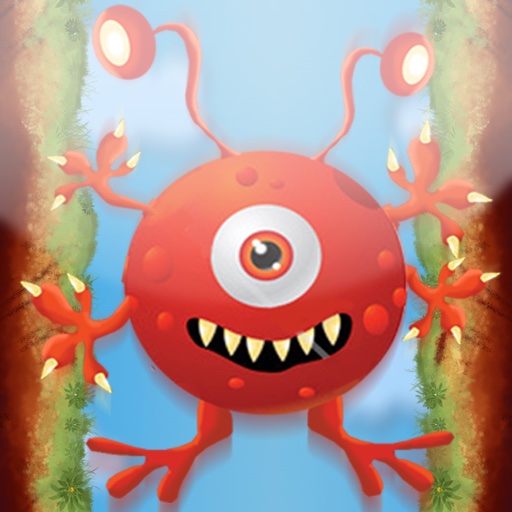 PROS
Fast point-scoring mayhem.
New gameplay features added as you progress.
Bonus levels with additional requirements.
CONS
Loose physics can make precision challenging.
Later levels can be harder to obtain.
VERDICT
Monster Falls is a surprisingly fun challenge and while early levels may not show it later levels really reward experimentation.
Full Review
App Store Info
UPDATE: A minor update for Monster Falls was released almost simultaneously with our review that has directly addressed some of our concerns. In particular, the physics remain somewhat floaty, but your monster is ever so slightly more responsive on accelerating left and right, making life much easier. Also, some casual players may have been left repeating levels more than they'd like to progress, but this has also been fixed and the difficulty scaling feels just right as players will need to improve, but not as drastically as before. With these in mind it would be unfair to leave Monster Falls as just an average effort and these small changes have earned it that shift up to the next level.
In Monster Falls by Ticking Box Studio, you'll need to guide your indestructible beasty down complex shafts in an attempt to race for the most points possible.
The controls are intuitive and players only have to tilt to give their monster momentum to dodge left and right. Hitting the walls holds no specific penalty other than slowing you down and ending your multiplier, however these are incredibly important as your score will constantly tick down to zero, meaning you'll need to get to the end as fast as possible while still picking up as many points as possible. Players can boost their score by enabling a multiplier from not colliding with the walls, though later levels feature plenty of side-passages and unlockable short-cuts that hold huge bonuses to offset this penalty.
There are 19 levels in total, though players will need to unlock new sets of levels by reaching a total score up to a set checkpoint. Bonus levels are also unlockable through additional point requirements. While this title could have become boring quite quickly, additional hazards and new gameplay mechanics are constantly added in to the mix, making each levels distinctly unique to master.
While casual players will enjoy the easy to jump in to gameplay, progression can require a lot of repetition to move on and while score hunters will enjoy getting the 'perfect' run, the loose physics can play havoc on an otherwise smooth journey. Monster Falls tries to walk a thin line between these two gamers and while it's not perfect, it's still an interesting game to try.