Tobe & Friends Hookshot Escape Review
---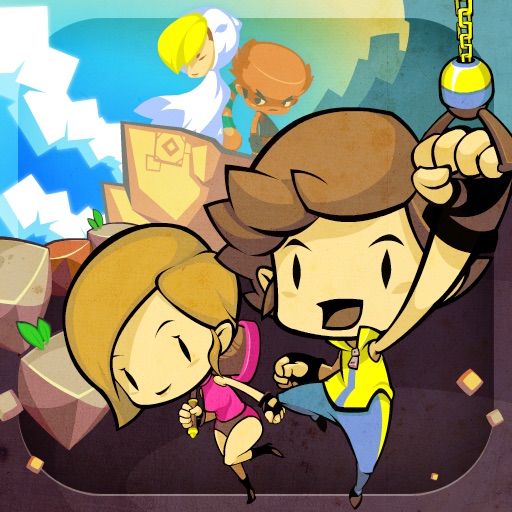 PROS
Multiple characters with unique control and combo systems.
Plenty of unlockable bonuses tied to achievements.
CONS
Tiny control interface in the vertical orientation; fingers also overlap the action if the player is too low on the screen.
VERDICT
Whether you've played a Tobe title before or not, Hookshot Escape is a great time-waster that knows that variety is the spice of life; a real challenge that constantly rewards the player for their progress.
Full Review
App Store Info
The name 'Tobe & Friends Hookshot Escape' may ring some bells for those of you who frequent the XBLA or Steam platforms looking for new and interesting Indie titles. For a while now, Secret Base, the developers behind the Tobe series have been placing the titular Tobe in to a series of varied platforming titles, ranging from a basic explore and conquer to an endless runner. Their latest title for the iOS adapts a game already available on their website and mixes things up by adding more depth and challenge to its already addictive gameplay.
Ultimately, Hookshot Escape is a vertical endless title, albeit with a unique system of using a hookshot to latch on to and propel the main character ever-upwards. A combo is awarded if you can chain together a series of grabs, though leniency is given if you happen to bounce on an object first (be it an enemy, chest full of coins or a temporary bubble platform).
This is no easy task, however, as Tobe sports a woeful jumping ability and the hookshot in question has a very short range - many of your first attempts will be cut short as you attempt to find the right spot that allows you to jump and hook with success. Once you've come to terms with this distance you'll be flinging your way up with almost a carefree abandon and it's here you'll meet even more challenges, be it enemies blocking your path, large gaps or moving / crumbling platforms. Break beyond this barrier once again and you'll start unlocking objects to customize your character and one of three alternate characters to play with.
Interestingly, this is where the game really opens up as each character sports their own unique way to make their way up the screen. While the hookshot is Tobe's preferred method, one unlockable character sports a double-jump and a hammer to break through blocks ala the NES classic, Ice Climbers. Just when you think you can't be bothered spending more time trying to beat your record, you're rewarded with something new, sucking you right back in.
Of course there are the obligatory In-App Purchases to make progression smoother, but aside from the controls being a bit cramped in the vertical orientation, Hookshot Escape is a perfect way to waste your time while challenging your platforming prowess.