Crazy Skeleton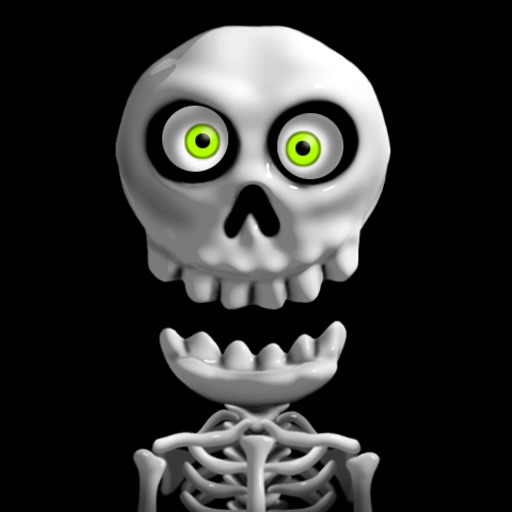 Click here to request a review of this app
Description
Crazy Skeleton is guaranteed to keep you and your kids amused for hours!

Attach Crazy Skeleton to your costume (or just hold him) and walk around to see his crazy eyes bob around. You can also touch to control his mouth and do a funny voice just like a puppet. Then jump up and down (or shake him) to make him come alive and do one of 18 crazy actions! This one has kept our kids amused for hours.

Uses for Crazy Skeleton:

- great for the office Halloween party
- add your phone to your costume and watch his eyes bob around as you trick-or-treat
- scare your buddies when your phone comes alive!
- fun Halloween puppet
- you'll always have a scary buddy when you need one
- freak out your friends and trick-or-treaters
- liven up a boring meeting
- win your next gadget battle: "Can your phone do this?"
- a great addition to your magic act
- great conversation starter

Features of Crazy Skeleton:

- just as scary as a real ventriloquist dummy!
- touch anywhere and slide your finger to move his mouth
- touch drag his eyes or tilt your phone to bounce them around
- shake him for one of 18 random video shake sayings!
- fun for kids
- no more lugging around heavy dummies

Important Health Warning: If you find yourself talking to Crazy Skeleton instead of real people please seek immediate medical attention.

Crazy Skeleton the ultimate Halloween costume accessory... from Ezone.com the makers of Crazy Lighter, Crazy Disco and Crazy Pumpkin!
What's New in Version 1.0.2
- Works on devices with iOS4.0 or greater (if you are still on iOS3, please upgrade your iOS before downloading)
- Easier to access shake sayings