WordFu Plus+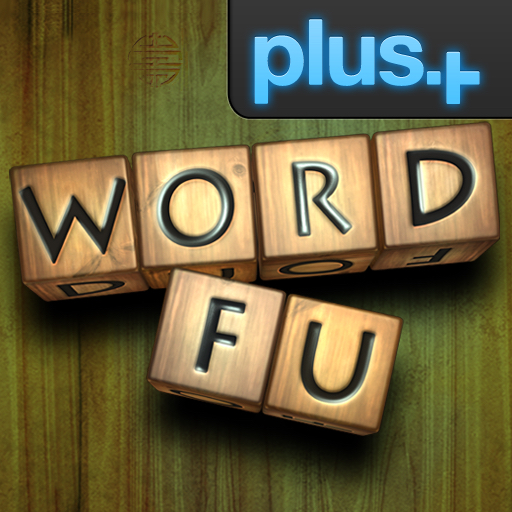 Click here to request a review of this app
Description
- WordFu is the proud recipient of a MacLife Editors' Choice award - a perfect 5/5!
- WordFu Plus+ is now FREE and uses the Plus+ Network!
Show off your scores to the world with Plus+ leaderboards, earn Plus+ Points and compare your Awards with your Plus+ friends, and take your progress anywhere with Network iSave. If you have OS 3.0, instantly challenge your friends directly via the Plus+ network.
-------------------------------------------------
Give your brain a blackbelt with WordFu!!! WordFu, the ultimate word puzzler created exclusively for the iPhone and the iPod Touch, is now FREE and available in French, German, and Spanish versions!
Shake your letter dice and spell as many words as you can before the clock runs out. Freeze time, flick dice for better letters, and let loose a fiery spelling fury!
Battle your friends in real-time over WiFi or challenge them to beat your scores through Direct Challenges over the Plus+ Network, Twitter, and Facebook.
• PLUS+ ENABLED – Add friends. Access online leaderboards. Earn Awards and compare Plus+ Points with your friends. Direct Challenge other Plus+ friends. Save all your progress through Plus+ with Network iSave.
• MULTIPLE MODES OF GAMEPLAY – Play in single-player mode or challenge your friends' honor in real-time multiplayer WiFi battles.
• CHALLENGE YOUR FRIENDS – Send Direct Challenges to your friends to beat your scores via Plus+, Facebook and Twitter!
• UNIQUE, INTERACTIVE ELEMENTS – Harness the power of Fire, Ice, and Wind to double your score, stop time, and change letters to spell more words.
• EARN AWARDS, PLUS+ POINTS, AND HIGH SCORES – Enter the Hall of Legend by breaking WordFu Records, climbing the leaderboard and earning Plus+ Awards as you strive to become a WordFu Grand Master.
• AUTHENTIC PHYSICS – MachDice technology delivers stunning visual effects and authentic physics that capture the look and feel of rolling real dice. Tilt your iPhone to peek at the other sides of each die before you change letters.
• AUTHORITATIVE DICTIONARIES - WordFu's dictionaries recognize over two hundred thousand words each for virtually unlimited replay-ability in English, French, German, or Spanish
• SHOWCASES: ACCELEROMETER, TOUCH, VIBRATION, WIFI, PUSH CHALLENGES
Check out the exciting trailers at wordfu.ngmoco.com. Follow us on Twitter at www.twitter.com/ngmoco.
-------------------------------------------------
TIPS & TRICKS
WORD SUBMISSION - You can tap the word that you are forming at the top of the screen to submit words in addition to using shake.
SHAKE SENSITIVITY - Shake Sensitivity can be adjusted in the Options menu, letting you find the Kung Fu style that is right for you.
What's New in Version 1.0.1
Bug fixes