Skabooki Review
---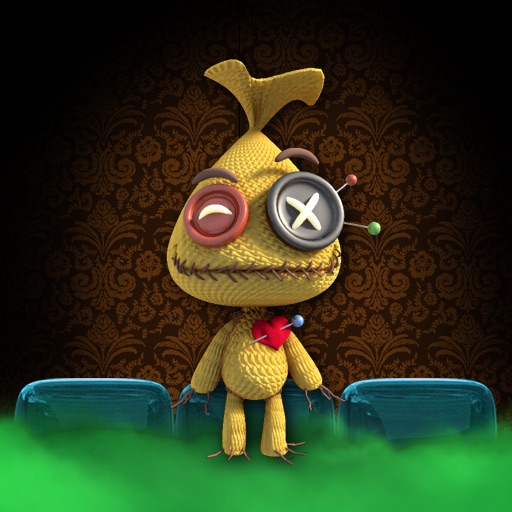 PROS
Very addictive puzzle gameplay.
Great looking visual presentation.
Leaderboard and score posting options via Facebook.
CONS
Small learning curve to how the game works.
VERDICT
Skabooki is a thoroughly enjoyable mix up of puzzle game elements that will have you under a spell and is worth the current price.
Full Review
App Store Info
Skabooki is a quirky puzzle game where you must safely guide Skabooki, a voodoo doll, through the various levels by removing blocks from under him. Players will need to make sure he drops in the right places and in order to not only escape but rack up as many points as possible.
You remove sets of three or more blocks by tapping on them but you will have to be careful about which blocks you remove. Because Skabooki cannot move, it is quite easy to run out of moves or get stuck. There are also a number of different block types that will either teleport or slide you to different areas that you will need to use correctly to complete the level.
The visuals are sharp and the game's presentation is well polished. The game features some fun and quirky music tracks but players are unable to use their iPod during gameplay. The game features one main mode but players are free to repeat levels and post their best scores to the Facebook leaderboards.
Skabooki is an addictive puzzle game that borrows elements of various other games and makes them its own. While it's simple to play, the game is a deceptively challenging and involved puzzle game. There isn't much wrong with this game but it can take a little bit of practise to understand all the varying block mechanics but this is minor. So if you love the 'think before you act' type puzzle games, then Skabooki is definitely worth a look at.