Puppet Sprint 3D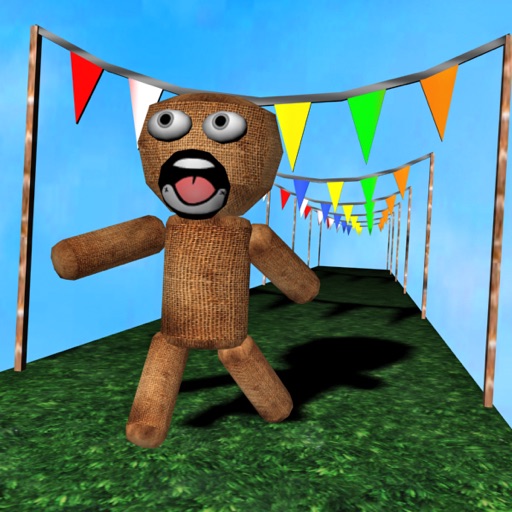 Click here to request a review of this app
Description
Puppet Sprint 3D is a cross between Little Big Planet and Pig Rush or Canabalt. Be sure to get the other game in the series, Puppet Jump!
Jump over holes while moving between two lanes, and avoid the wooden crates that will slow you down. Collect Puppet Points along the way which you can use to unlock new costumes and scenes.
Challenge your friends to see who can sprint the farthest before falling!
Controls are easy, just use the arrows to move between lanes and anywhere else to jump!
Customization is extensive with the ability to change your puppet's body, hat, eyes, mouth, material and choose from 10 different backgrounds to give almost a million unique combinations.
Puppet Sprint is also an impressive technical achievement, with full per pixel shadow mapping even though it is not natively supported on the iPhone. Custom shaders were written for 3GS that let objects cast shadows on themselves and everything in the scene. This is the same shadow technique found in console games on Xbox 360 and PS3.
This game features stunning graphics on iPhone 3GS that are unlike anything you've seen (unless you've played our other game, Puppet Jump!)
Online global leaderboards and forums through OpenFeint are included.
More RPG Games:
Doodle Chopper, Puppet Jump, Puppet Sprint, Puppet Labyrinth, Super Soccer Kick 3D, Super Football Kick 3D, Pocket Farm, iFishing, iFishing Saltwater, Dark Raider, Dark Raider S, Blue Skies, Blue Skies 3GS, The Guy Game, The Girl Game, Asteroids 3K
What's New in Version 1.4
-Added community forums in Catalog