Giant Fighting Robots for iPad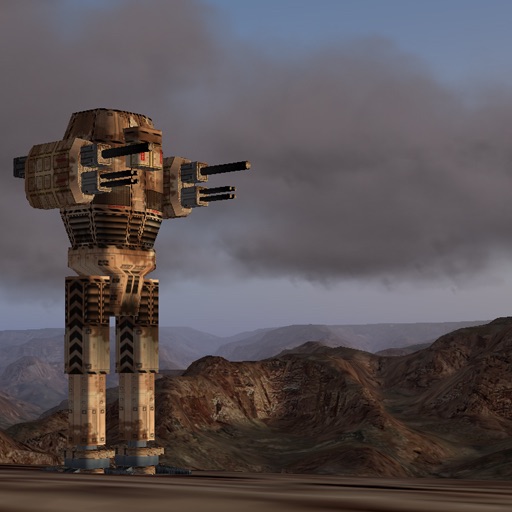 Click here to request a review of this app
Description
From the creators of X-Plane comes a really FUN new combat sim that really turns the iPad into a mini game-station of significant power... THIS is the virtual-reality combat sim that many of you have been waiting for.

Much like X-Plane, Giant Fighting Robots is fairly complex, with pretty accurate physics... but being in a Giant Fighting Robot with Guided Machine Guns, Lightning-Guns, Gatling Lasers, and a dozen or so other weapons, trying to defend yourselves against artificially-intelligent, heavily-armed alien fighter and bomber spider-bots on a dozen foreign worlds... well, the action gets quite a bit more intense.

You will start off in the Genesis-Class ATAW (All Terrain Attack Walker), which is nothing more than a modified cargo-walker with a few modified aircraft air-to-ground guns mounted on the top. It is a pretty silly defense against the alien attack, but it is all humanity can throw together on short notice. As you defeat the alien invaders at progressively harder levels, the Human Cascade will have time to develop increasingly powerful ATAWs and weapon systems, making each of your future combat engagements more complex and violent as you move into faster moving ATAWs like the Huron, or heavier ones like the Galaxy or Titanic, and move into command of really frightening weapons systems like the Flame-Thrower, High-Capacitance Laser, Ion Cannon, Lightening Gun, or Guided Torpedo. Can you handle it? Can you WIN it? We can.. but it isn't easy!
What's New in Version 9.60
Now with more weather randomization, including thunderstorms in some cases, complete with thunder and lightning... cool!

Bigger fonts for enhanced readability, bigger click-regions on the buttons for more useability, more labels on the controls for ease of use. This should make the app a hair easier to learn.

More tuning of the code for higher frame-rate and smoother game-play, which makes it a lot more fun.

We will check on the reviews in a week or two, and if they are good then we will do an HDEF version for the iPhone 4 as well!