MONOPOLY Here & Now: The World Edition Review
---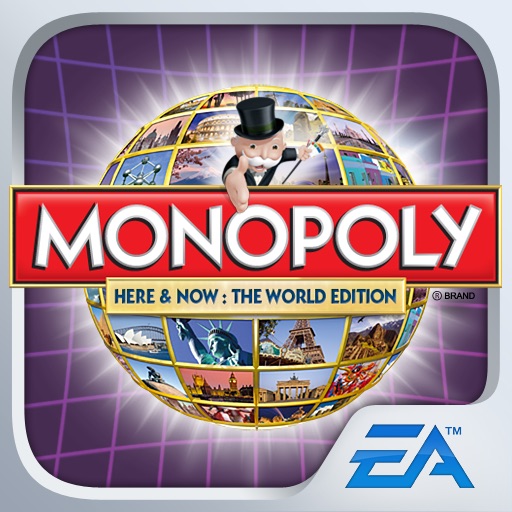 PROS
Players have the ability to save their progress.
Excellent visuals and game play.
Players can customise game length, background and rules.
Multi-player enabled.
CONS
Cant skip opponent's turn .
AI seems a little too "lucky" at times and players might feel a bit cheated.
Wi-Fi tends to be a bit unstable.
VERDICT
Monopoly: Here and Now is an excellent application for those who wish to play this classic game on the go and is definitely excellent value for money.
Full Review
App Store Info
Both Monopoly fans and those wanting to take a quick trip down nostalgia lane will be thrilled with the new release of Monopoly: Here and Now. This classic board game has come to life on iPhone with exciting 3D animated tokens and a fun, colourful interface which is sure to please players of any age group.
The controls for the game are quite simple. To roll the dice the player needs to give their iPhone a quick shake and to buy, sell and trade properties with other players there is an action box displayed at the bottom of the screen which the player can select by touching the icons accordingly.
The visuals for this game are very pleasing and give an overall fun feel to the game. The 3D animation is smooth and the interface is simple to understand. The sound effects are able to be turned on or off during game play and this allows players to have their iTunes music played in the background. Multi-player support is also included, players can choose to either verse AI or connect with other players via, Wi-Fi or Bluetooth. The game also has three different difficulty settings to choose from and players are able to save their game at any time.
Monopoly: Here and Now is a fun filled game which can be enjoyed by players of any age and is a quick and easy alternative for those who don't like wasting time setting up the board game or for those who want something fun to play while they're on the go.