Floe — a little bear needs your help Review
---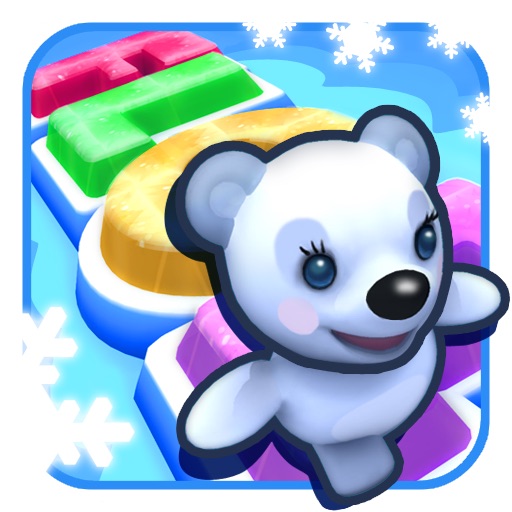 PROS
Challenging puzzles; casual style, no pressure.
Cute, bright and clean visuals.
Universal App.
CONS
Tilt controls not always consistent; difficult to use on the go.
VERDICT
Sappy story aside, 'Floe - a little bear needs your help' will pull your heartstrings while dumping you in to a puzzle challenge that will tax your logical skills.
Full Review
App Store Info
On the cute scale, 'Floe - a little bear needs your help' by Clickgamer rates about 8.4 Unicorns, or roughly 12.8 Fluffy Puppies in the metric system. I mean seriously, look at the icon and read the title again and tell me this isn't bordering on critical-mass amounts of cuddliness!
Should you take up the challenge of helping out baby bear 'Flo', you'll need to defeat an increasingly complex series of sliding-block puzzles. Each of these puzzles are situated on a chunk of ice, with only one entrance in and out and a multitude of pastel shapes that can slide around the screen should you tilt your iDevice. The trick is to slide the blocks while also moving Flo in order to reach the end and the obligatory 'reset' and 'undo' buttons allow you to reconsider your options appropriately. To add further complexity to the matter, having a block slide in to Flo will crush her, but being the ball of rainbows, smiles and corn-syrup that she is she'll simply fly up in to the air as she squeezes out of the gap, so you'll need to make use of the ability to freeze groups of blocks in place to help her survive.
Describing the visuals almost seems silly by this point, but the 3D world is charming in its simplicity and the variety of colored blocks helps in managing each puzzle as you attempt to find the most efficient way past the hazards. Stars are awarded for meeting the minimum number of slides required to complete a level, though this can become terrifically difficult even early in to the game's content.
To help out, balloons are occasionally awarded, allowing players to skip ahead of a puzzle, though each level can be accessed again should you wish to clear the game perfectly. There is somewhat of a dichotomy in the super-cuteness and the super-challenging puzzles, but if you're after something harder than average and you don't mind rosy-cheeked anthropomorphic animals, then by all means 'Floe - a little bear needs your help' is for you.