mondrian Review
---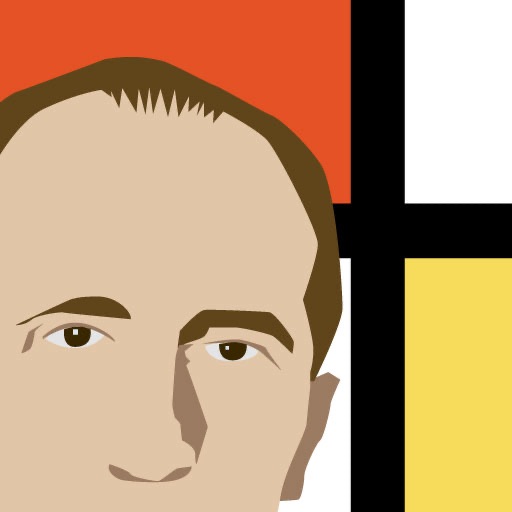 PROS
Addictive, engaging gameplay.
Clean bright graphics.
Good sense of humour throughout
CONS
Not enough content.
Players cannot skip levels.
Not very replayable
VERDICT
Mondrian is a solid puzzler that will make you think, laugh, and hopefully find a new appreciation for art.
Full Review
App Store Info
Anybody familiar with the Dutch artist Piet Mondrian and his Neo-Plasticism artform may have an inkling to what this game is about. What is doubtful is that they expected to have the ghost of the man himself accompany the player on a quest to retrieve his paintings from all over the world.
Mondrian is a block puzzler where the player must move coloured blocks around the level in order to recreate some of the paintings by Mondrian. Even though you are doing the dead man a favour, he is quick to rebuke your failings with sharp wit and a quick tongue.
Players are given a scrambled piece of art and by pressing the solution button you see what it should look like. In as little moves as possible the player then swipes the coloured blocks around the screen until it matches the solution. Blocks continue to slide until hitting the edge of the art, or hitting another coloured block. Controls are simple to use, and work perfectly.
The graphics are what you might expect from a game based on art, and expectations are well met. While they are not exact replicas of Mondrian works, they do the job well enough. Sound is restricted to the sliding of blocks, and while the game lacks music, there is an option to set up custom playlists from your iPod.
Mondrian is a quality puzzle game that has more character than most thanks largely to having Mondrian react to your gameplay in an entertaining manner. This is one title not to be missed by puzzle fans, and is engaging enough for anyone to enjoy.