Run! Review
---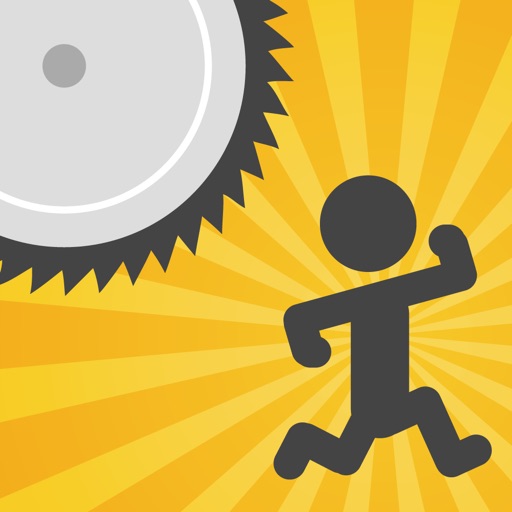 PROS
Gameplay can get very hectic after a short while, but it's the fun kind of hectic.
The game has some great visual design.
The controls are responsive and easy to use.
CONS
There is only one game main mode.
The gameplay relies on fast reflexes, which some people might not like.
VERDICT
If playing quick reaction based action games is your idea of a good time, then Run! is the game for you and definitely worth the current price.
Full Review
App Store Info
Run! is an action game where players must help a small stick figure man avoid obstacles as he runs. You must safely run past zombies, walls, dropping saw blades and eventually walruses. Your goal is to run as far as you can and earn as many points as you can in doing so.
Your stick figure man will run by himself, but you must flick the screen up and down to jump and duck oncoming walls, tap the punch button to kill zombies or other enemies and you can tap on destructible brick walls to blow them up. The controls are easy to use but become quite hectic as the number of obstacles increases later on, making for some really fun and frantic gameplay.
The visuals are basic, but have a certain charm about them. The sound is great and while players are unable to use their iPod during gameplay, the game's bouncy music track is still fun to listen to. The game is single player only, but players can submit highscores to either global leaderboards, or their Twitter page.
Run! is an action game that will never leave you short of thrills. The gameplay is addictive and will keep players on the edge of their seat as they slide under dropping saw blades, hurdle over zombies or accidentally run into a wall. So if you're looking for a fast paced action game with a ton of personality, then run to buy Run!