Doodle Invasion Review
---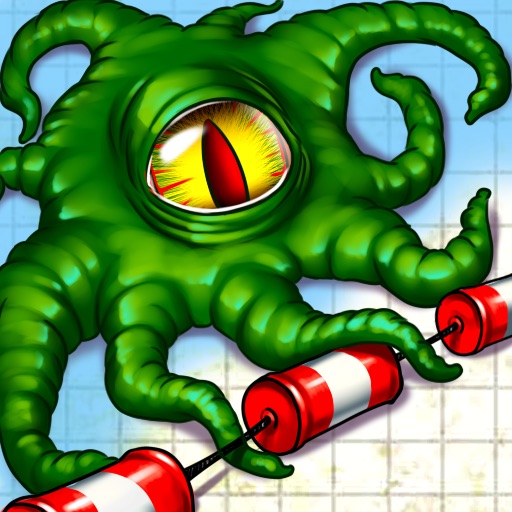 PROS
Fast-paced tapping gameplay.
Clever visuals with tonnes of animations to explore.
CONS
Sharp difficulty curve; unless you hit 'replay', all previous levels need to be replayed as well.
VERDICT
Doodle Invasion is a hard game to enjoy unless you manage to click with the game's somewhat loose control scheme, but if you can get past that there's a few smiles to be had watching stick figures as they get slimed.
Full Review
App Store Info
It's all too easy to let your eyes slip over games that profess the formulaic title of 'Doodle <verb>', however despite the usual stylistic hallmarks in Doodle Invasion from Clickgamer, you'd be doing the game a disservice for dismissing it out of hand.
The premise is a relatively simple one as invading blobs attempt to take over a beach (and subsequently the world) and you'll have to hold off the incoming tide long enough to destroy the creature spawning forth these tentacled denizens. Players are given several tools to dispose of their enemies, drawing buoyed nets across the screen to catch and wrangle the blobs in to manageable chunks to be sucked up by ships that occasionally cross the screen. Other enemies can be disposed of with a simple tap, including firing missiles from the ships and helicopters that pass by.
Unfortunately there's a steep learning curve as you attempt to manage all the smaller quirks of the control system, not the least of which is having to hold off on tapping while a barrier is in place as it otherwise mysteriously disappears. This is further complicated by other taps that don't cause the same problem and having some creatures miss the net altogether if it's moved too quickly.
While these may all be purposefully designed gameplay features, it doesn't reduce the amount of frustration felt while you flounder to master the new elements added in each successive level. Should you click with the control choices in Doodle Invasion, you'll find the game to be challenging with more than a bit of irreverent humor to keep you smiling, however if the controls aren't to your liking then you're unlikely to stay amused for long.