Mad Skills BMX Review
---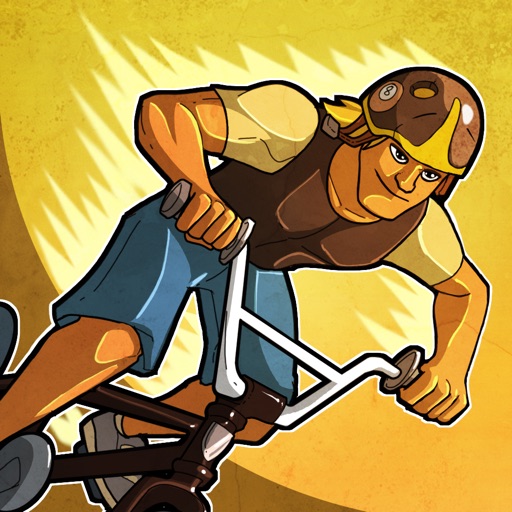 Publisher: Turborilla
Genre: Sports
Released: 16 Aug, 2012
Size: 40.7 MB
Price: $0.99
PROS
Intuitive swipe control scheme; tight physics make ensure everyone from beginner to expert are catered to.
Secrets to unlock and plenty of skins to show off.
FB integrated leaderboard and replay system; play against your friends or see how they got that high score.
CONS
Swipe sensitivity occasionally feels too low; dramatic movements reduce the space of the screen you can play with (most noticeable on down swipes).
Opponent AI inconsistent in challenge; makes for spiked difficulty while progressing.
VERDICT
With only a few competitive friends on your Facebook feed you're guaranteed a whole lot of fun from Mad Skills BMX; even without them you'll be hard pressed to beat the AI and unlock the game's secrets.
Full Review
App Store Info
One of the biggest hurdle to overcome when trying to create a competitive title such as Mad Skills BMX is in being able to make it approachable for casual players while still catering to the hardcore crowd. Turborilla's solution was an elegant one - focus on the flow of the controls and the feel of smoothly sailing through the air to nail that perfect landing, and newcomers or veterans alike will be hooked.
Virtual controls are history in Mad Skill BMX and players can choose to either control the tilt of their rider via accelerometer, or (my personal favorite) by swiping on the screen. This may sound like madness, but it really works - swipe up and you'll jump; swipe down and you'll plummet to the earth and ride moguls to pick up speed; swipe and hold back or forward and you'll flip. Combine them and well... you get the picture.
With 40 levels to conquer you'd think you'd be at it forever trying to unlock them all. Thankfully all you have to do is complete the race to move on - nothing more is asked of you. However an AI opponent who's difficulty spikes at times provides a tangible opponent to beat, getting you in to the swing of the game's larger meta-game - competitive riding.
Log in to Facebook and you'll be presented with a podium list of friends who have the best times on the current level. You can view their replays to see how they beat you or better still, load up their ghost and beat their best time. Don't worry, they'll get the message via notifications if you beat them.
Although Game Center achievements are not currently available in the game, they will be included in an upcoming update. Instead of cheesy goals, players will be asked to beat crazy times on each level - should you complete them all something interesting may happen. Also, fans of the original Mad Skills Motocross may be happy to know that a tournament may also be in the works if the company is hassled enough.
Mad Skills BMX brings back the simple competitive joy of games like Motocross Maniacs and in our books that's almost the highest praise we can give it - definitely make it your next purchase if you love your racers and have a competitive streak; I guarantee you won't be up for air for a week.