Splash !!! Review
---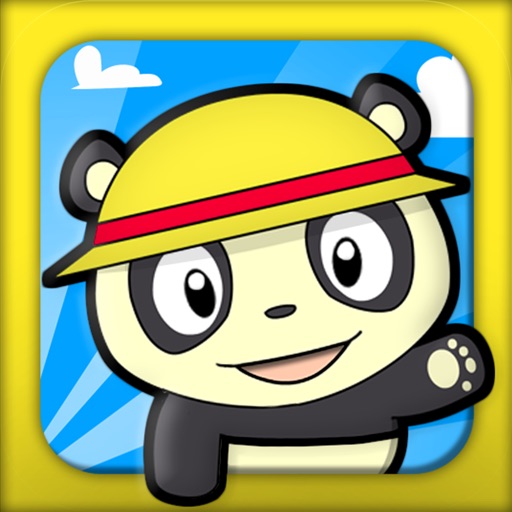 PROS
Clever use of water mechanics through the bubble spray, and the cannons.
Crisp sound effects.
CONS
Finicky controls especially when trying to tilt in mid-air.
VERDICT
You're a panda riding a bubble, trying to get rubber duckies safely to their wading pool utilizing the physics of water. It's certainly a unique take on the physics puzzle genre.
Full Review
App Store Info
As strange as some of the scenarios created for these physics puzzle games are, it's amazing how many of them make the gameplay that follows more bizarre when all they were trying to do was create a context to explain everything going on. In Splash you control a panda riding atop a bubble that can be filled with water. The goal of each stage is to collect the rubber duckies strewn about, and deliver them safely to the wading pool. The reason for all this is that the panda has lost his beloved duckies and can't take a bath without them. Why the ducks are floating around in a Rube Goldberg-ian puzzle nightmare is anyone's guess. Still, the explanation doesn't lessen the game experience, and of course that's what important.
The panda and his bubble are controlled by tilting the iPhone. Water cannons can be tapped to shoot the bubble in the opposite direction, and the bubble itself can suck up pools of water, and then a quick swipe will shoot you up into the air in the direction you desire. The controls are serviceable. The panda responds decently enough to tilting but it's the swiping when full of water that features the most problems. Later on the game teaches you to swipe in mid-air to change the direction of your bubble, and it's not just that your bubble can easily catch on edges of platforms and ramps, but the speed at which you jettison water to fly requires an all too quick reflex to make your direction change have the desired effect. The fluidity of the bubble to change shape based on what surface it's on and what's effecting it is a nice touch however.
Splash is yet another physics puzzle game that offers an interesting premise and some clever design. The controls are a little problematic, but those that love the genre and look for new experiences to fly through short levels collecting star ratings (based on time in this title) should find themselves satisfied with this purchase.