League of Evil 3 Review
Last modified 10 years, 5 months ago
---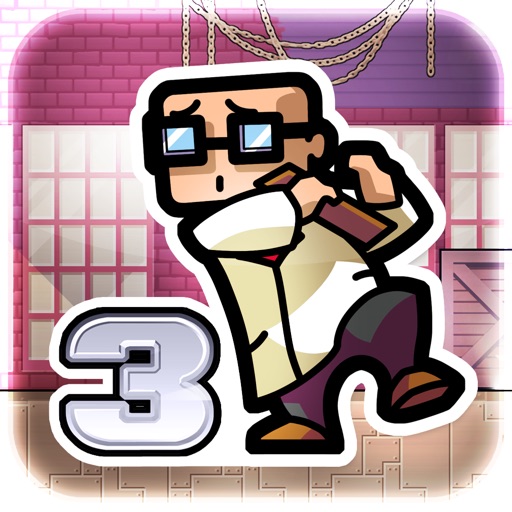 PROS
Tight controls make for precision platforming.
Level design is fiendishly challenging.
Punching scientists is glorious.
CONS
Extreme difficulty could prove off-putting for some.
VERDICT
A fitting climax to the punishing trilogy, League of Evil 3 is precision platforming at its most ruthless.
Full Review
App Store Info
League of Evil 3 is hard. You remember the first two games in the series? Remember restarting levels 20, 30, even 40 times, all the while cursing your disobedient thumbs for every mistimed jump overlooked bullet?
Yeah. This one's harder.
Whether that's a good thing or a bad thing depends on your appetite for punishment. You see, League of Evil 3 manages to embody everything that made the franchise the platforming powerhouse it is today.
The controls are still some of the tightest you will find on any touchscreen device. The gameplay remains pretty much identical: You're a beefy cyborg charging around hazardous environments dodging or destroying enemies, all for the chance to punch a procession of cowering scientists in the face.
That last bit is important. This level-ending moment of scientist thumping is the hugely satisfying destination at the end of a very long and treacherous road.
You see, you have to get used to dying in League of Evil 3. If the previous games were brutal, dishing out mercilessly punishing maps which tested both your reactions and your memory to the very limits, then League of Evil 3 is downright psychotic.
First, you need to reach the end of the level. This is often a daunting task. Once you've navigated the obstacle course of electrified spikes, tribal warriors, trigger-happy commandos, and two-legged robo sharks, you'll want to go for the collectible briefcases. After that, it's a case of shaving seconds off your time to get those all important three stars.
Along the way, you'll die repeatedly. Though this frustrates at the beginning, you soon realise (or remember) that its is all part of the League of Evil experience. Here, death is your friend, a teacher who chastises you when you do wrong, and rewards you with a scientist-shaped punching bag when you succeed.
The question is, does the thrill of completion outweigh the repeated agony of defeat? In our view, yes. Though you and your steel armed avatar will be smacked down more times than you care to count, the joy that comes from besting these fiendishly designed death-mazes to immense.
The intimidating difficulty level may be off-putting for some, but anyone looking for a true challenge will find League of Evil 3 a worthy adversary.