Piggeldy und Frederick - Was ist Glück?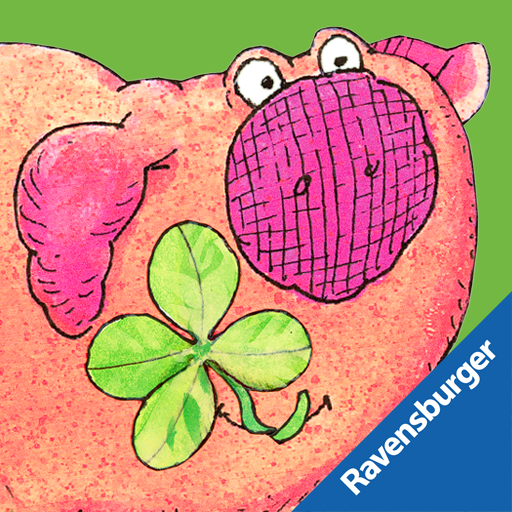 Click here to request a review of this app
Description
***THIS APP IS ONLY AVAILABLE IN GERMAN LANGUAGE***

Piggeldy wollte wissen, was Glück ist. "Frederick", fragte Piggeldy seinen großen Bruder, "Frederick, was ist Glück?" – "Nichts leichter als das!", antwortete Frederick und so beginnt ein philosophischer Spaziergang mit der Suche nach dem Glück …

Die Geschichten über die beiden niedlichen Schweine, aus der Feder von Elke und Dieter Loewe, werden nun auch auf dem iPhone und dem iPod touch erzählt, ganz nach Vorlage der Bücher aus dem Ravensburger Buchverlag.

Mit dieser App können Sie sich die neu vertonten Geschichten vorlesen lassen, selbst lesen oder gar mit Ihrer eigenen Stimme aufnehmen. Machen Sie Ihren Kindern, Enkeln oder Freunden ein persönliches und exklusives Geschenk. Mit der einfach zu bedienenden Aufnahmefunktion können Sie Ihre Lesungen speichern, so dass Ihre Kinder Ihnen lauschen können – auch wenn Sie mal nicht zuhause sind.

Die liebevoll animierten Geschichten von Piggeldy und Frederick haben Kult-Status bei Jung und Alt, Nostalgikern und Nachwuchsfans. Das wissbegierige Schwein Piggeldy und seine Fragen stehen dabei im Mittelpunkt. Piggeldy löchert seinen großen Bruder Frederick mit Fragen über wichtige und banale Dinge im Leben, die sich aber oft gar nicht so leicht erklären lassen. "Nichts leichter als das, komm mit!", sagt Frederick und führt Piggeldy durch die Welt und findet am Ende immer eine Antwort.

Für alle Liebhaber der beiden Schweine gibt's noch einen Klassiker obendrauf: Ein memory® MINI-Spiel mit bunten Motiven aus der lustigen Geschichte.

Aus dieser Serie ist auch die App "Piggeldy und Frederick – Was ist Freundschaft" erhältlich.
What's New in Version 1.1
- Für alle Liebhaber haben wir ein memory® MINI-Spiel eingebaut
- Vereinzelt aufgetretene Abstürze wurden behoben.
- Zusätzliche neue Animationen wurden hinzugefügt.
- Für eine bessere Handhabung wurde das gesamte Menü überarbeitet.
- Wir haben alle externen Links aus der App entfernt, sodass Sie die App auch beruhigt Ihren Kindern in die Hand geben können.