The Great Jitters: Pudding Panic Review
---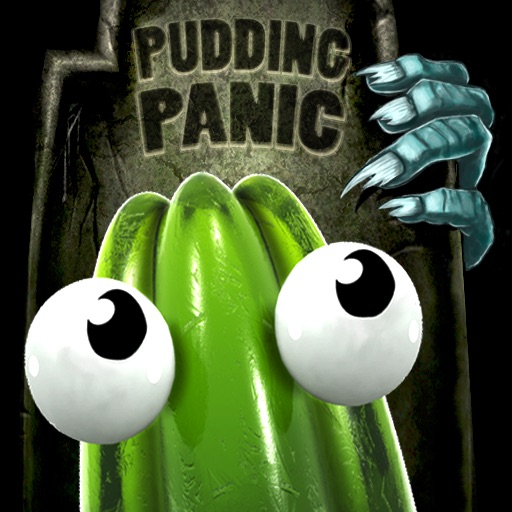 PROS
Fleshed out real time train-track puzzles.
Delightfully spooky environments.
Smooth learning curve; new concepts added regularly.
CONS
Limited replay value; level replays only required to progress.
VERDICT
Scared of haunted house rides? Don't worry, helping out Jitters in Pudding Panic is fun and cathartic whether you love or hate the staple carnival ride.
Full Review
App Store Info
Unless it's your first time, when you jump on to a 'Haunted House' ride at a carnival or fairground you know what you're in for - usually a tightly packed rail-ride filled with cheap thrills and spooks where anticipation rather than genuine fear gets your blood pumping. Thankfully the experience is short-lived, but in Pudding Panic by kunst-stoff a poor thrill-seeking jelly is forced to live through a nightmare of 48 separate areas in the most poorly maintained ride ever.
You'll need to prevent the 'pudding' under your charge from dying of fright by ensuring his ride is as smooth as possible by solving puzzles in real-time. Multiple tracks that wind and twist around each other are combined with 'enemies' out to spook the molded jello in your charge, however it's in your power to modify the crossroads to redirect traffic, either avoiding danger or bringing him closer to other objectives like switches to continue his progress. Abilities can be activated by either collecting tokens or obliterating nasties from the track, though some puzzles will rely on utilizing various monsters to obliterate each other to proceed.
The dark and dingy environments of Pudding Panic are wonderfully spooky and varied over the course of the entire game, mixing things up with different perspectives and game modes to keep you on your toes. Later areas will require you to collect tickets in each level, so some backtracking may be in order, though once you're at the end there's no major incentives to come back for more.
Even still, overcoming every stage is a fun and unique challenge, making Pudding Panic an easy game to recommend to those after something a little out of the ordinary.